Panama: one of the regions with the greatest variety of ecosystems and habitats on the continent
Panama's geographical position has turned the territory into a scenario of ecosystems and a wide variety of ecological diversity which positions it as one of the favorite spots of any lover of nature and adventure. Here it is possible to see the sunrise in one ocean and sunset in the other or enjoy a dessert or enjoy a walk to a volcano.
The Isthmus has an area of 75,517 square kilometers, full of thousands of species of flora and fauna in every corner. The latest National Biodiversity Action Plan and Strategy 2018-2050 mention that the nation is home to 3% of the world's amphibian species, 2% of reptile species, 9% of bird species and 4% of mammals. The portal masivaecologica.com assures that Panama is the only capital of Latin America that is surrounded by forests less than 10 minutes from downtown.
More than 25% of the region is protected by 15 natural parks that are part of twelve forest classifications and 10 wildlife refuges:
– La Amistad National Park
– Bastimentos Marine Park
– Golfo de Chiriquí Marine Park
– Barú Volcano National Park
– Parque General de División Omar Torrijos- El Cope
– Interoceanic National Park of the Americas
– Sarigua National Park
– Altos de Campana National Park
– Camino de Cruces National Park
– Sovereignty National Park
– Metropolitan National Park
– Darién National Park
– Coiba National Park
And it is precise because of its natural wealth that it has been located among the 30 countries with the greatest absolute diversity of species, within the bird sector, the country occupies the number 1 position in Central America with more species of birds observed in one day with 750 classes. In terms of flora, 10,444 species have been recognized and are characterized by the bionic exchange between North and South America with some 1176 endemic species.
Next, we will mention the most popular points, full of ecological diversity, and favorites to visit both tourists and locals.
Pacific Coast
Coiba Island: located south of the province of Veraguas and occupies a total of 270,000 hectares, one of the largest marine parks in the world. It was declared a World Heritage Site by UNESCO in 2005. Its forests and seabed are practically virgins. It is made up of 8 smaller islands and 30 islets.
Archipelago of Las Perlas: located in the heart of the Gulf of Panama, formed by 39 islands and 100 islets. Here you can enjoy the enlistments of whales, multicolored reefs, forests or wonderful beaches. For its quantity and diversity of fish and marine species is considered one of the best places for sport fishing.
Pedasi: located in the south of the Azuero Peninsula in the province of Los Santos. It has the island with the most marine diversity of all the coast; Iguana Island. It has 52 hectares surrounded by a coral reef that gives the white color to its sand. This island is formed by two beaches that are home to 62 species of birds and several species of reptiles, in addition to frigate birds, coral fish, and sea turtles.
Playa Venao is located southwest of Pedasi, is recognized as one of the favorite places for all surfers. Isla Cañas is the only place in the country and all of Latin America that is home to some 30,000 sea turtles a year.
Santa Catalina: it is the perfect place for divers since they will be able to see whale sharks, hammerhead sharks, dolphins, and even humpback whales, in addition to marlins, sailfish, stoppers and many more. Its location is also ideal for hiking trails and observing wildlife at first level.
Gulf of Chiriqui: a great refuge for marine fauna, crystalline islands, and a great underwater life, luxury landscape for whales. It is also used as a refuge for green iguanas, humpback whales, hammerhead sharks, dolphins, sea turtles, and giant rays.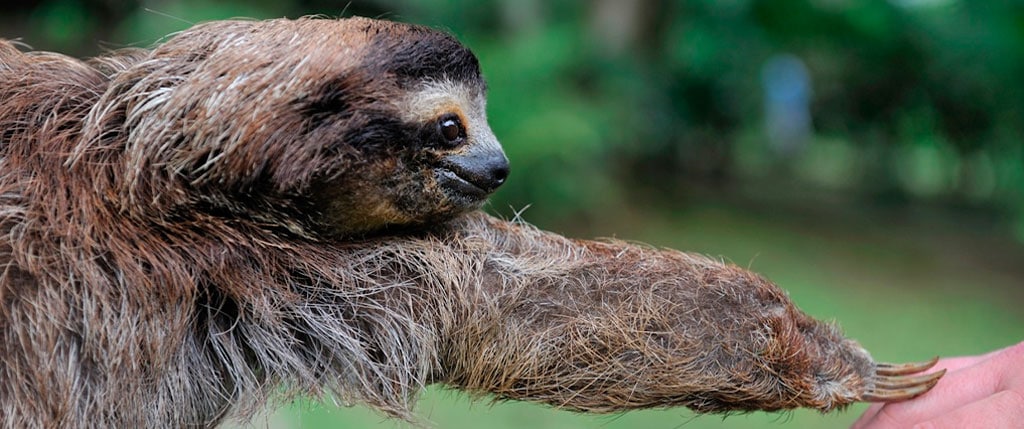 Caribbean
Shield of Veraguas Island: 3 km long and located in the territories of the Ngäbe Buglé Shire; home to the island's endemic pygmy sloths as well as the long-beaked hummingbird, hawksbill turtle, and red frog. It is a paradise of hidden beaches, crystalline waters, white sand, and thick jungles that have an impressive marine fauna, it is undoubtedly one of the jewels of the Panamanian Caribbean.
San Blas Archipelago: it has 365 small islands with white sandy beaches. It is the right destination for ecotourism and bird watching, its marine ecosystems are considered among the most fabulous, according to studies by Dr. Hector Guzman of the Smithsonian Tropical Research Institute in Panama, this area is home to coral reefs of great complexity and biodiversity.
Portobelo: a territory full of tropical forests, coral reefs and mangroves. Among the existing species in this area are ferns, roe deer palms, red mangrove, black mangrove, white mangrove, mangrove fern, sangrillo, and cerillo. In some of its reserves inhabit the puppeteer monkey, ñeque (type of rodent that grows in America) , brown pelican, babillo (a small reptile that grows inside Panamanian territory) and cat hose.
Cayo Zapatillas (Zapatilla Keys): this is a destination that captivates with its incredible vegetation, biodiversity, and ancestral customs. It has an indescribable natural beauty, with 9 islands, 52 cays and thousands of islets. It has exuberant tropical vegetation and a unique fauna with fine white sand. It is home to dozens of starfish, corals, sponges, sea urchins and the three-toed sloths, endemic to this area.
The state makes continuous efforts together with international entities to maintain the country as a favorite destination for ecotourism and that its visitors continue to increase, for the year 2015 reported a total of 148, 695 tourists to protected areas reporting an increase of 42% compared to previous years.
Panama is considered "a power in biodiversity" and devotes more than 30% of its territory to the creation of protected areas.
Its geographical position places it in the center of the Western Hemisphere as a natural avenue for the functioning of natural ecological processes at the level of the continent. Within our experiences you can visit some of these natural parks, learn more about these destinations here.